Replacement / Repair of Convertible Tops
OEM tops or aftermarket tops can be installed, depending on cost concerns. It is important to note that labor time can vary. OEM tops tend to be less problematic and can actually take less time to install. With a reputable manufacturer, fit and functionality will be virtually identical to OEM tops. However, aftermarket tops will be missing the factory logo stamps on the rear windows. Be wary of online tops that seem incredibly low priced. Inferior replacement tops and "B" stock merchandise may not be worth the perceived savings.
Headliners
Sagging headliners can often be retrofit with a conversion to an early style headlining that uses multiple bows. The early style headliners took a lot longer to install , but will not drop down over time. The modern, one piece designs are less time consuming to install and do not require expertise to avoid wrinkles. They do , however, have a tendency to delaminate on older cars due to the foam backing breaking down from the heat exposure at the roof of the automobile.
Seat Upholstery
Seats can be reupholstered as original, or customized ( contrasting piping, inserts or stitching). Additional padding can be used to rebuild a seat cushion, gain height and remedy "sitting in a hole". Additionally, seat heaters may be added to most vehicles. We only use the highest quality seat heater elements from Check Corp.
Carpets
Faded, stained or damaged auto carpet can be replaced with molded carpet in original or custom colors. Aftermarket carpet replacement can result in a substantial savings over factory replacement carpet.
A Note on OEM Parts
It is important to realize that OEM replacement upholstery, carpet, headliners and convertible tops are usually only available for a few years. As an automobile ages, restoration parts availability becomes increasingly difficult. Factory parts may no longer be available. This is especially true of interior upholstery. Engine, transmission and mechanical parts tend to be manufactured for a much longer time than interior trim parts. Fortunately, there are vendors who have stepped up to fill the void!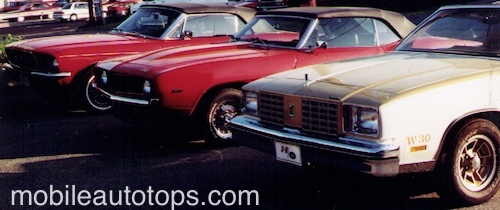 Contact Us
In order to book an appointment, or get information regarding your vehicle please do not hesitate to contact us. You can do so by sending an e-mail or giving us a call at 1-508-655-3177.